Lawrence Berkeley National Laboratory's (LBNL) China Energy Group (CEG) assisted the U.S. Department of Energy (DOE) in organizing the 8th U.S-China Energy Efficiency Forum (EEF) in Denver, Colorado on October 13th, co-hosted by the U.S. DOE and China's National Development and Reform Commission (NDRC). The annual EEF is the primary platform for senior U.S. and Chinese officials and industry to assess the progress of energy efficiency engagements, discuss emerging market and policy developments, and explore trade and investment opportunities. EEF includes a plenary session providing insights on new policies, a high-profile MOU signing and recognition ceremony to highlight new U.S.-China partnerships and interactive technical breakout discussions. Topics include building and industrial efficiency, energy efficiency financing, codes and standards, energy management, and emerging topics in sustainable development. Seven staff members and two affiliates of the China Energy Group participated in the EEF.
At the plenary session, Dr. Daniel Simmons, Acting Assistant Secretary of the Office of Energy Efficiency and Renewable Energy of the U.S. DOE and Mr. Ren Shuben, Director General of the China Department of Resource Conservation and Environmental Protection of NDRC made keynote speeches, both emphasizing the importance of promoting energy efficiency and collaboration between the U.S. and China.
The China Energy Group's Leader, Dr. Nan Zhou, represented LBNL in the signing ceremony for Better Buildings China partnerships. Dr. Nan Zhou also moderated the panel discussion during the plenary session to discuss the role that energy efficiency plays during the new era of the Internet of Things. Dr. Jiang Lin, Dr. Bo Shen, Dr. Wei Feng, and Nina Khanna also made presentations at the afternoon break-out sessions. 
The China Energy Group assisted the organization of the plenary session and co-led 4 of the 8 break-out sessions with Chinese partners (i.e. Building I: Harnessing Market Leadership to Accelerate Energy Efficiency Adoption, with NDRC; Industrial Energy Efficiency Policy, Standards, and Solutions, and Energy Management and Supply Chain, with the Ministry of Industry and Information Technology; Demand Side Management, with NDRC; and Technical and Policy Pathways for Deep Efficiency, with NDRC). In collaboration with Pacific Northwest National Laboratory, LBNL's CEG also assisted DOE in evaluating and selecting Energy Performance Contracting (EPC) pilot projects. Nine new EPC pilot projects were formally recognized at the EEF.
For more information on the 8th US-China Energy Efficiency Forum, please click here.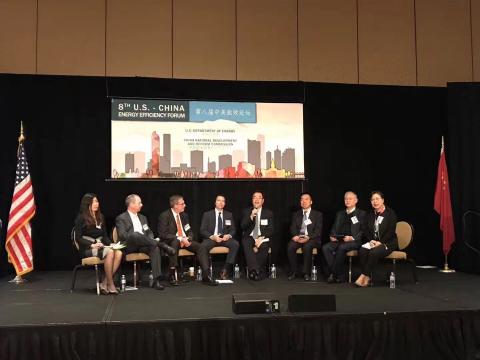 Dr. Nan Zhou moderated the panel discussion about Energy Efficiency Emerging Topics and Trends during the plenary session.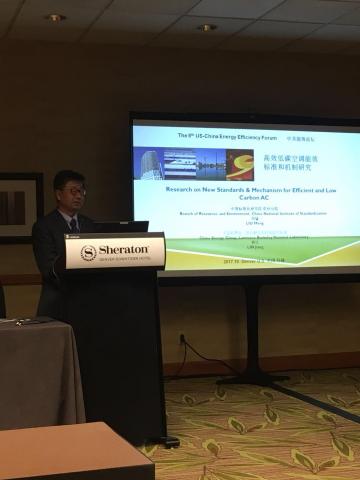 Dr. Jiang Lin made a presentation on new standards & mechanism for efficient and low carbon AC at the Technical and Policy Pathways for Deep Efficiency break-out session.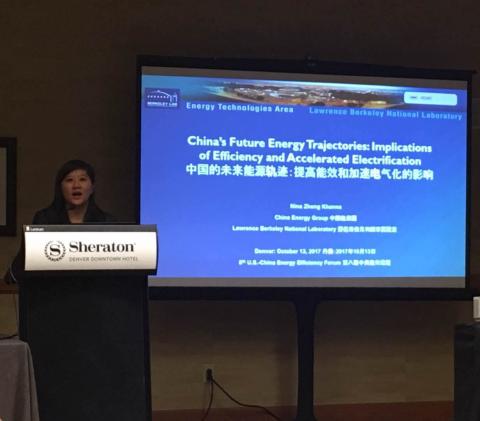 Nina Khanna talked about the potential of electrification in China's future energy trajectories during the Demand Side Management break-out session.